What is Guide Dog Mobility training?
Guide Dogs are trained to help you navigate your daily environment and beyond.
Thanks to their unique skills, Guide Dogs can recognise obstacles, cross busy roads, move through large crowds with ease, board public transport, and get you almost anywhere you need or want to go.
Every Guide Dog is carefully selected to match your personality and specific needs, and they're always on hand to help you achieve your goals. Guide Dogs provide constant support and companionship throughout your partnership, with the average partnership lasting from eight to ten years.
Throughout your partnership, our qualified Guide Dog Mobility Instructors provide ongoing training to ensure you have the skills and confidence you need for years to come.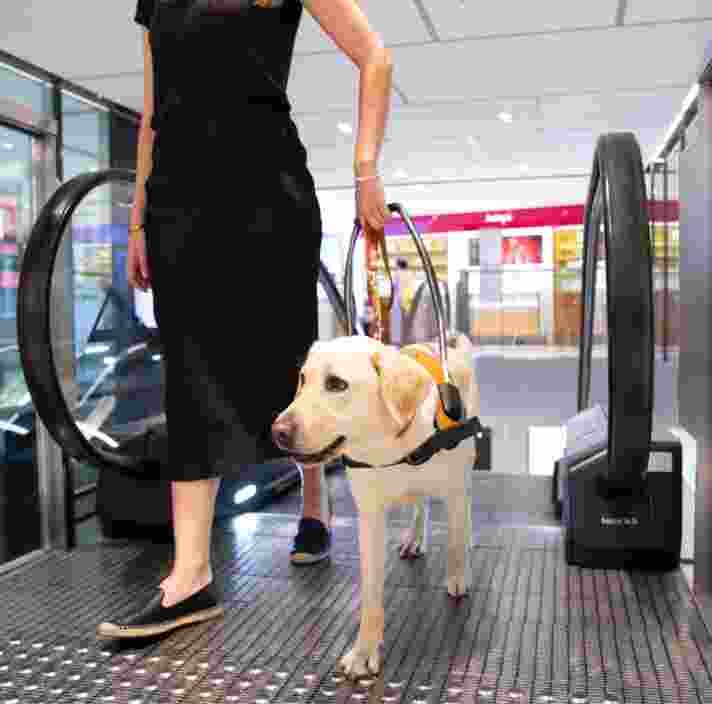 What type of skills can I learn?
Learn the skills to confidently move through your community.
Through Guide Dog Mobility training you can:
Get around your community safely; go to the shops, travel to work, go to restaurants, attend sports events or movies, and more.
Maximise your independence and confidence when moving through busy public places.
Increase your opportunities to socialise and spend more time with others.
Travel to your favourite or most frequently visited destinations more efficiently.
Enjoy a greater sense of security, both at home and in the community.
Develop a genuine bond and enjoy true companionship.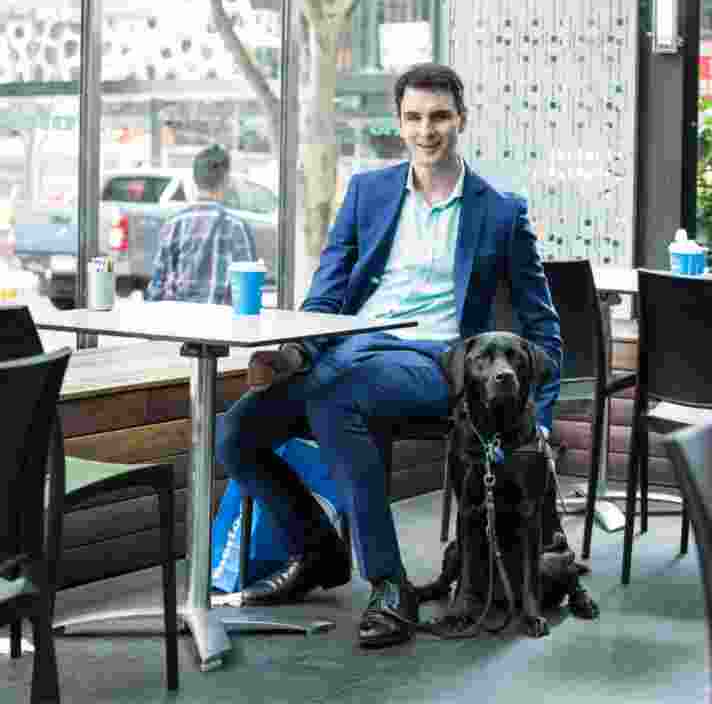 Finding the right match for you.
A carefully selected partner; a life-changing companion.
If you choose to partner with a Guide Dog, you'll discover a true connection that offers so much more than improved mobility.
The relationship between a Guide Dog and their handler is key to creating the perfect team. We carefully partner Guide Dogs with handlers based on individual needs and lifestyle. A Guide Dog that is right for you will become an invaluable companion to help you achieve your goals and live the life you want.
First, our team of specialist Guide Dog Mobility Instructors perform detailed assessments to identify whether a Guide Dog partnership is right for you. You need to develop solid orientation skills and be able to use a long cane proficiently. These skills form the foundation for handling a Guide Dog, and enable you to work as a team with the dog to access your travel routes and environments safely.
You also need to demonstrate that you either have or can gain the skills you need to care for the dog yourself. For this reason, most people are over the age of 18 before they receive a Guide Dog, but we always look at each case individually.
Then, we learn a little more about your lifestyle, preferred walking speed, and how frequently you travel or enjoy social activities to find a Guide Dog that perfectly meets your needs. This relationship is the foundation for years of improved independence, safety, and confidence.
We train university students, parents with young families, and people who work full-time, part-time, or not in the workforce. We also train seniors and people from non-English speaking backgrounds.
The special bond between a Guide Dog and their handler is as much about friendship and trust, as it is about independence and mobility.
Our Guide Dog Mobility team
By your side every step of the way.
The Guide Dog Mobility team will be by your side every step of the way to ensure the process is right for you. They conduct important initial assessments, provide training before you receive your dog and equip you with all the skills and knowledge you need to feel confident working with your new companion.
Your Guide Dog Mobility Instructor will play a vital role in selecting the perfect dog for you to make sure it will be the right fit for your personality, physical needs, goals and lifestyle. After we've found the right dog for you, you will undergo a personalised training program so you can start working with your Guide Dog on your regular travel routes.
Our experienced team are here to support you throughout your entire journey. It doesn't just stop when you are partnered with your Guide Dog. We will remain in regular contact with you following the placement of your Guide Dog, so you have all the support you need to be a successful team for years to come.
It's incredible to see the independence and confidence someone can gain from being the support of a Guide Dog. We are here to help the same thing happen for you.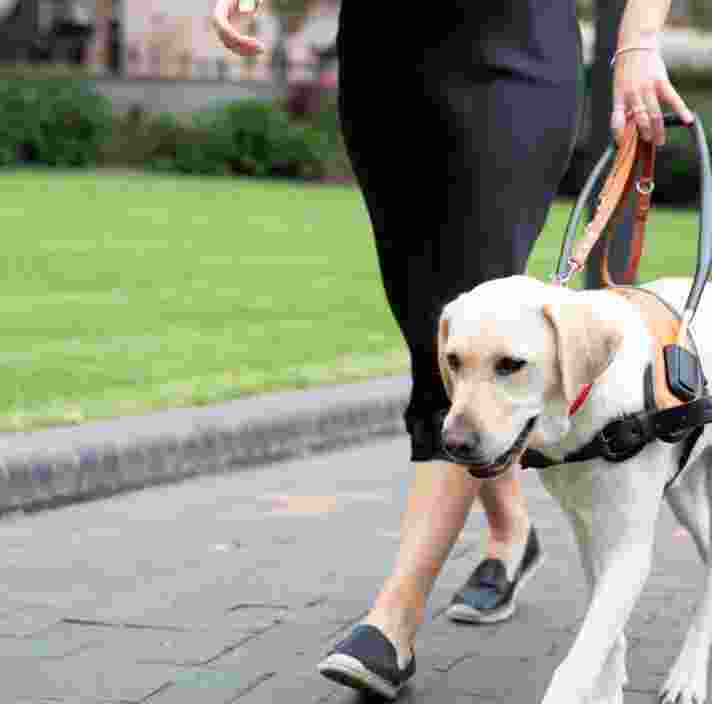 Michael's story
Guide Dog Libby makes difficult tasks so much easier.
"My guide dog Libby makes difficult tasks so much easier. One of our most special moments together was when she helped me get around the Mater Hospital on my own while my wife had our baby."
– Michael, Guide dog handler.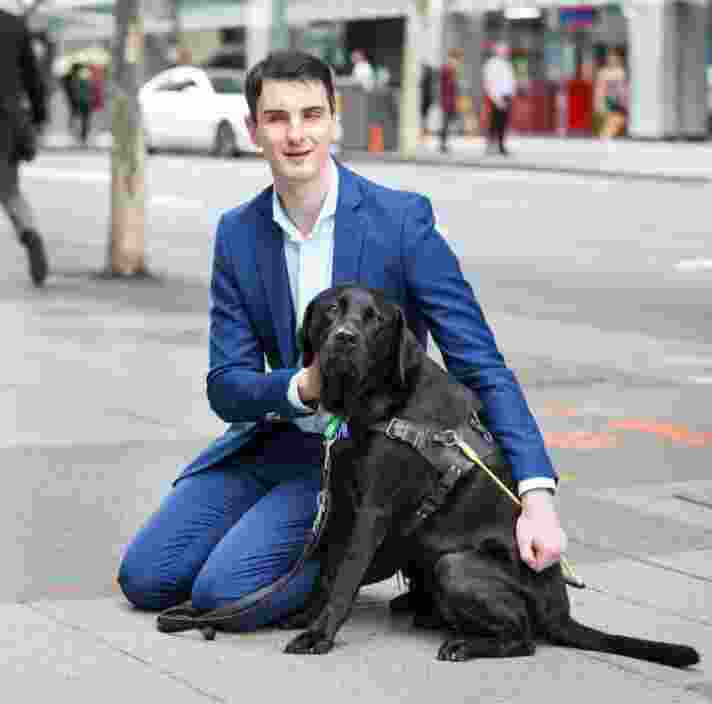 Funding options
You may be eligible for funding support.
You may be eligible for funding support through the National Disability Insurance Scheme (NDIS), meaning the costs of your support could be covered.
We can also help you explore alternative funding pathways.
For more information about funding support, please contact our Client Services team:
Ph: 07 3500 9060
Email: clients@guidedogsqld.com.au