What is a Puppy Pal?
Contribute to the journey of our promising puppies as they work to become Guide Dogs.
A Puppy Pal is a valued supporter who makes regular donations to contribute to the journey of our promising puppies as they work to become Guide Dogs.
When you become a Puppy Pal, you support our Guide Dog program. This includes:
training and enrichment equipment
maintenance of our kennel facilities
veterinary costs
and expert dog training staff.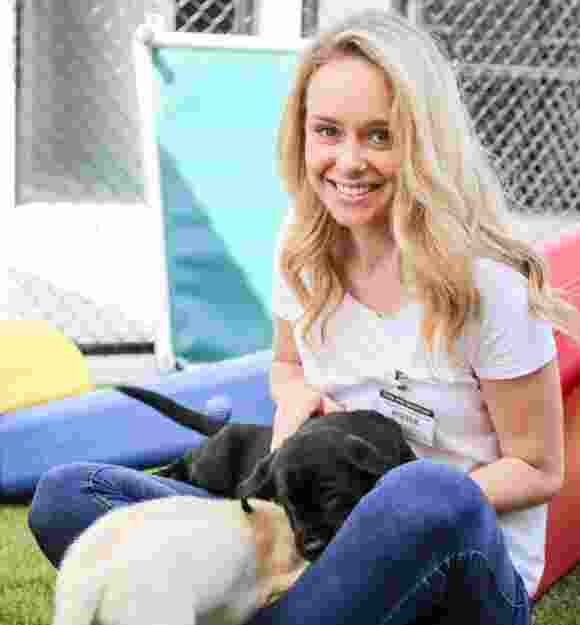 As a Puppy Pal, you will be part of a community of supporters and dog lovers all following the journey of a litter of promising pups.
While you closely follow the journey of your litter, your donations will contribute to the Guide Dogs program as a whole, supporting all our puppies in their development.
Ultimately, your donation goes toward helping people with low vision or blindness to live confident and independent lives.
Meet the 2023 Puppy Pal Litter!
These Labr-adorable L Litter pups need your support to have the best possible chance of becoming life-changing Guide Dogs.
Names: Logan, Link, Luka, Lottie and Lena
Date of birth: 15 November 2022
Mother: Valisa
Father: Nicholas
It takes over two years and costs more than $50,000 to raise, train and transform playful pups into brilliant Guide Dogs. This journey is only made possible by the support of people like you. Your small, regular, monthly payment can go a long way in changing someone's life.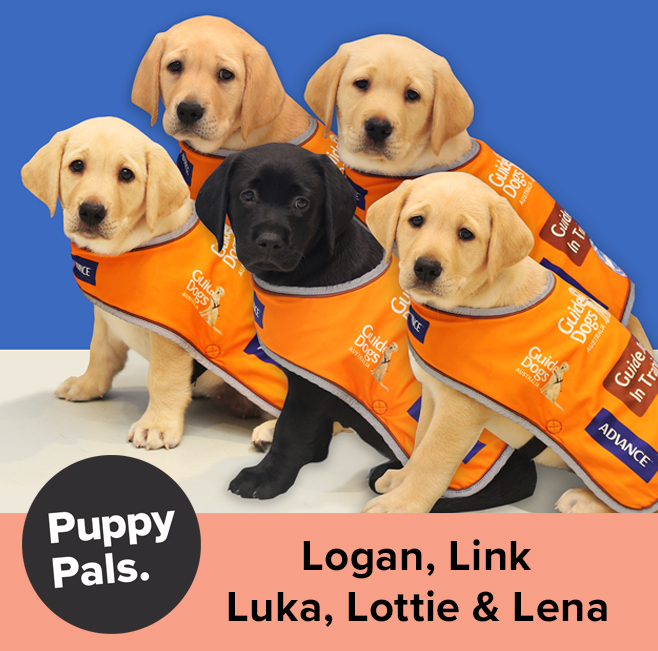 What you get as a Puppy Pal
By joining the Puppy Pals program, you give puppies the best possible start on their journey to becoming Guide Dogs.
As a Puppy Pal you also get all kinds of exclusive offers and opportunities like:
A welcome pack with photos of the puppies you are supporting and some paw-fectly cute gifts
A copy of your litter's birth certificate
Regular pup-dates on your litter's progress
An exclusive Puppy Pals only event to meet our pups each year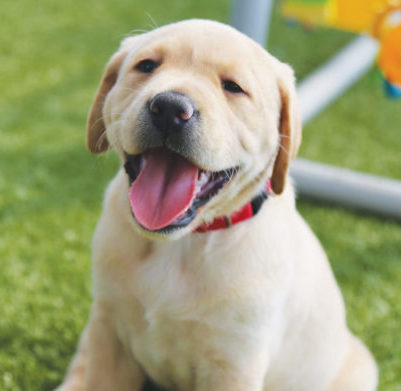 Make a real difference
Our new recruits have big paws to fill but they can't do it without you!
Your regular contribution means more puppies will be placed with people living with vision loss, helping them to live their life with freedom and independence.
As a Puppy Pal, you'll play a very important part in helping more puppies become Guide Dogs, like 'Tatum' from the 'T' litter. Now he's all grown up and graduated he's making a big difference to his handler every day.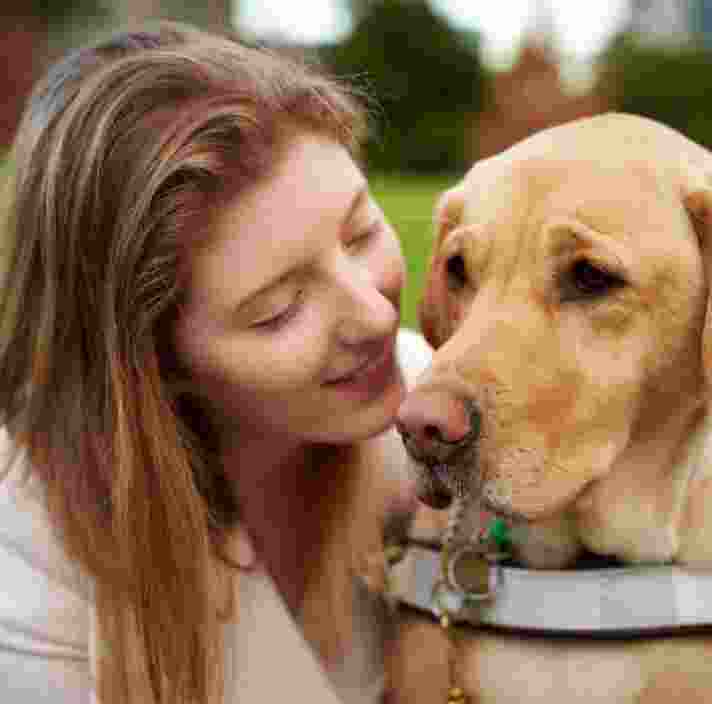 Want to find out more?
Rachel, our Puppy Pals Coordinator, is on hand to talk about how you can help Guide Dog puppies play, learn and grow.
The journey of a Guide Dog would not be possible without people like you. I can't wait to talk to you about the difference you can make to our promising puppies.
Rachel, Puppy Pals Coordinator
Call 1800 810 122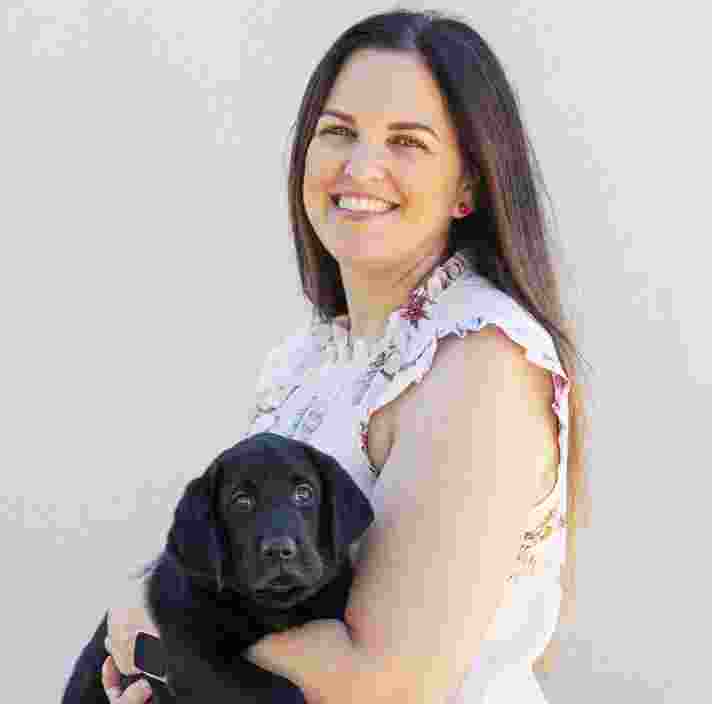 Frequently asked questions
Frequently asked questions
When you become a Puppy Pal you will receive:
A welcome pack, including a photo of your litter and magnetic photo frame
Regular 'Pupdates' to follow the litters' journey
An invite to the annual Puppy Pals Day
Lots more pawsome surprises!
You can become a Puppy Pal from as little as $25 every 4 weeks or $300 a year.
Your recurring donation can be made by automatic debits from a nominated bank account or credit card. This can be done every four weeks or annually.
Puppy Pal members will receive an annual tax receipt in July each year, which will include a summary of all donations from the previous financial year. All donations are tax deductible.
The annual Puppy Pals Day is exclusive to Puppy Pal members and their loved ones. It's a pawsome day to come see the digs here at Bald Hills, experience a training session in action and most impawtantly, meet some of the adorable pups. Even if you can't come along on the day, we share the footage and photos afterwards so you won't miss out!
You can sign up online by clicking here and following the prompts. Or you can call our Puppy Pals Coordinator, Rachel on 1800 810 122 to sign up over the phone. We would be delighted to hear from you!
If you are a current Puppy Pal and would like to update your details, please call our Puppy Pals Coordinator, Rachel on 1800 810 122.
When you become a Puppy Pal, you support a litter of pups born to become Guide Dogs. Your regular donations go towards training and enrichment equipment, maintenance of their kennel facilities, veterinary costs, and expert dog training staff.
We understand that your circumstances may change. If you would like to suspend your membership for a period of time or adjust the amount you donate, please call our Puppy Pals Coordinator, Rachel on 1800 810 122. You can also cancel your membership at any time, our team are happy to help in any way we can.
You can certainly gift a Puppy Pal membership. If signing up online, please click the tick box 'This is a gift.' Simply fill in the details of the gift recipient. Both you and your gift recipient will receive Pupdates about your litter.
We're sorry to hear you haven't received your welcome pack yet. It can take approximately two weeks for your welcome pack to be processed and dispatched. If this time has passed, please email admin@guidedogsqld.com.au or call our Puppy Pals Coordinator, Rachel on 1800 810 122.