Welcome to the world of raising a puppy
Puppy Raisers are a vital part of our volunteer community.
These families or individuals ensure that our new puppy recruits get the best possible care, in a loving home environment while receiving necessary training.
Raising and training a puppy is an amazing experience that is incredibly rewarding for the whole family.
All Guide Dogs puppies have the potential to change a life. Become a Puppy Raiser, and you will too.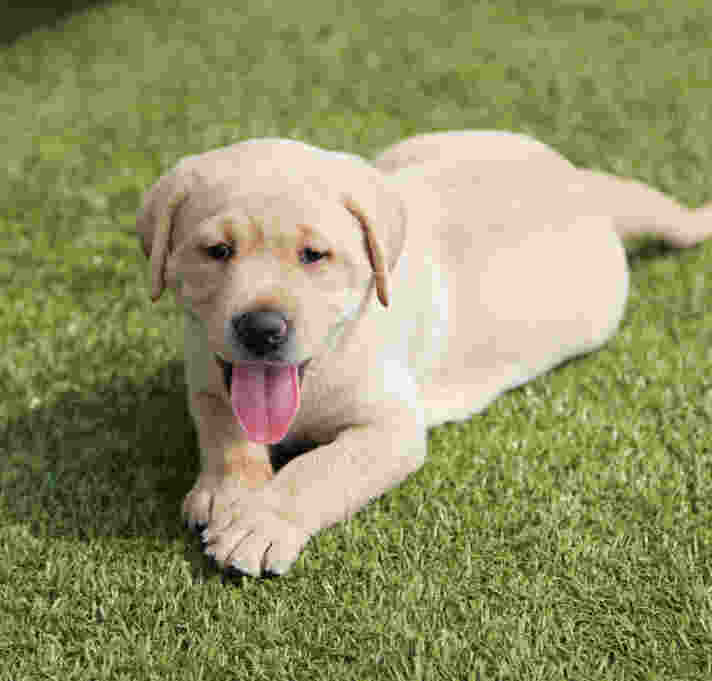 Making a Guide Dog
It takes almost two years to breed, raise, train and match just one Guide Dog.
Newborn – 0 to 8 weeks old
I live in the Nursery with my mum and siblings. Here I start finding my feet and learning more about the world around me.
Growing puppy – approx. 2 to 15 months old
I'm so excited to go and live in the community with my Puppy Raisers! My new family takes me on lots of outings so I can gain new skills and experiences. I'll get to share my journey with two families during this time!
In training – approx. 15 to 20 months old
I return to Guide Dogs to start my formal training when I'm about 15 months old. My trainer teaches me everything I need to know to be a Guide Dog, including assessments where the trainer is under blindfold and I have to guide them safely through a range of environments!
Guide Dog – 20 months onward
After years of training I'm ready to start the job I was born for. My handler is carefully picked from the clients on our waiting list to make sure we're the perfect match.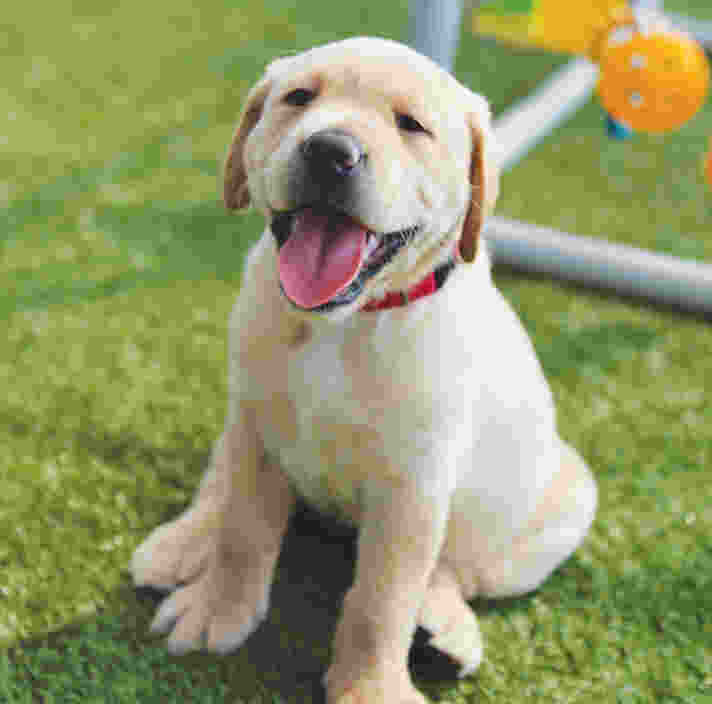 What does it take to raise a Guide Dog?
Nurture a puppy to reach its potential, and you will too.
Raising a puppy involves caring for a future Guide Dog from eight weeks to 15 months of age. You'll help teach your pup basic obedience, socialisation and the foundations they need for their training.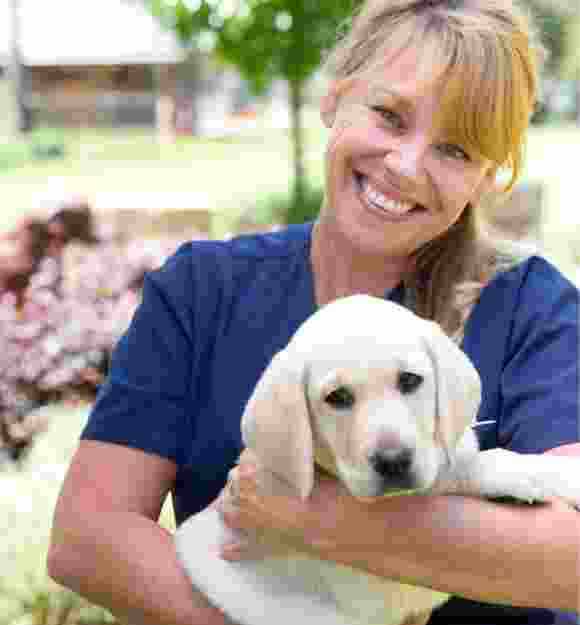 We'll be there along the way to offer all the support you need. We also cover the associated costs including food, some equipment and healthcare. Puppy Raising is a physically demanding role and will require you to actively look after the puppy including bending and lifting.
As a Puppy Raiser, not only do you get to learn a lot about dogs and yourself, you will get to enjoy lots of puppy love and know your effort will make a big difference to someone who is living with vision loss. All we need is your love and time.
When your pup is ready for training
Handing your puppy back can be emotional, but it's incredibly rewarding to know that the dog you have raised will change someone's life.
You will even have the chance to see your Guide Dog working as it nears the end of its training and attend the very special graduation event.
Many Puppy Raisers feel so proud of what they've achieved and contributed to that they go on to raise more puppies or volunteer in other ways across the organisation.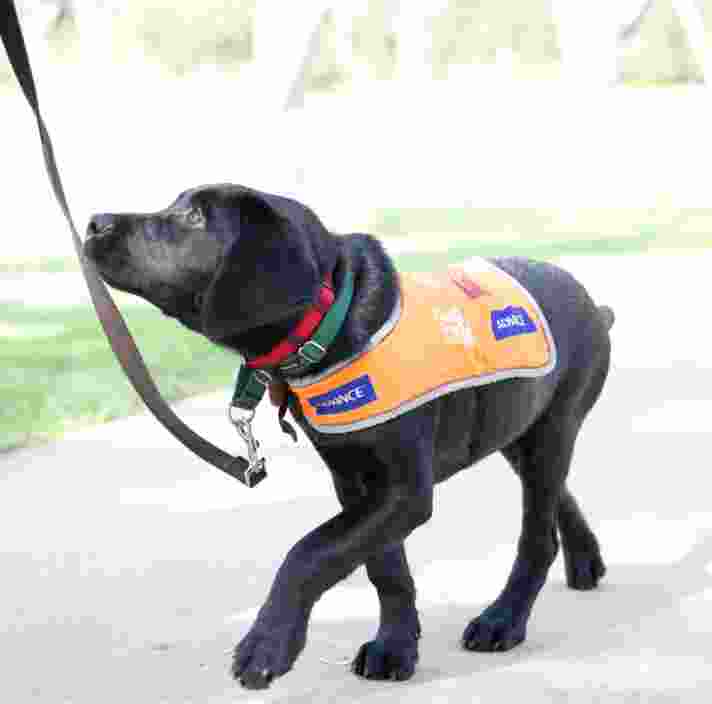 Commonly asked questions
Raising a puppy is a very special commitment that requires an enormous amount of dedication.
As a guide to help you decide if it's right for you, you should be able to answer 'yes' to the following questions:
Puppy Raisers should be willing to travel to the Bald Hills Nursery and Training Centre for initial assessments, vet check-ups and handling sessions that may be required. As a Puppy Raiser, you will need to be available to attend regular classes, which are weekly or fortnightly depending on your puppy's age.
Our puppies need a lot of love and time to grow into calm and confident guide dogs. A puppy will need your help to be exposed to busy conditions, public transport, car travel, shops and crowds on a regular basis.
Puppies need a suitable area inside your home to live and sleep, as well as access to an appropriate outdoor toileting area.
A primary adult carer should be responsible for the puppy's training and care, and will be our main point of contact in the program.
Your puppy will be energetic! You will need the energy to keep up with it and manage its physical, emotional and cognitive demands.
If you have a rental property, you may need approval from your estate agent. If you will be taking your puppy to work, we require written permission from your employer – this is something our friendly team can assist you with.
You may be asked to participate in events, attend vet appointments on-site or classes on weekdays with your puppy. You will also need to have a licence to drive in Queensland and a registered vehicle.
As the Puppy Raising program requires online portal access, you will be required to have access to a home computer, emails and internet. This ensures that you receive all the latest updates, class information and schedules and reminders of key dates and events.
Support for Puppy Raisers
We're here to help you along the journey.
24/7 access to the Puppy Raiser portal – including training and health resources
Group classes and training managed by professional trainers following an internationally-acclaimed training program
Professional puppy educator team to direct and assist you
On-site veterinarian
Associated costs including food, some equipment and healthcare covered by Guide Dogs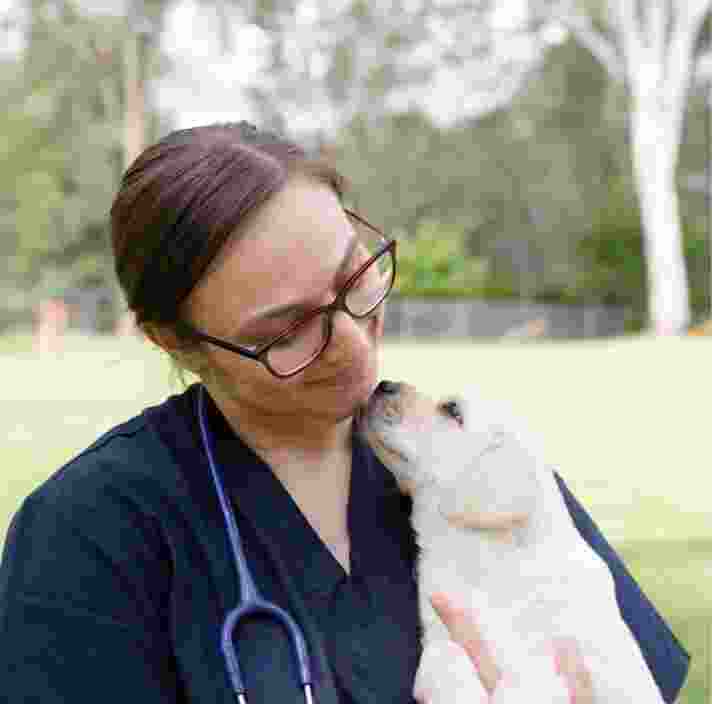 The application process
Our simple five-step application process helps us and you determine whether you're the paw-fect fit for our Puppy Raiser program.
Step 1. Apply
If you've checked the criteria above and think raising a puppy could be for you, register your interest here.
Step 2. Additional Information
On receiving your registration, a member of our friendly team will email you additional information and outline the application process.
Step 3. Orientation and interview
Once your application has been received we will be in touch to discuss any queries. We will then send you the information and handler videos, which will provide you with all the information you need before we book your virtual home interview.
Step 4. Waiting List
After completion of a successful home interview, the final step is to view an on-site class and our Volunteer Coordinator will be in touch to complete your Blue and Yellow Card application. You will then be placed on a waiting list to be matched with a puppy.
Step 5. Meet your puppy
Once a puppy has been matched to you we will be in touch to confirm the next steps. We will supply all the equipment necessary and will be there to support you along the way.
Apply to raise a puppy
Raise the next generation of life-changing Guide Dogs
Our promising puppies and dogs need you to help them on their journey. By sharing your love and time with them, you will have a truly rewarding volunteer experience unlike any other.